NEWS:
2019:
Alluvium Trinkets LP - OUT NOW: Purchase

Join The Strapping Fieldhands Appreciation Society on Facebook
NEWS ARCHIVES
"Mysterious Girl" voted into top 350 songs of the 90's at 'Don't Make Lists'
more info...
Photos of Strapping Fieldhands at Gonerfest fall 2010 are up!
more info...
Some live action from '93 & '94 archived at 'Freedom Has No Bounds'
more info...
Strapping Fieldhands - 'Shaking Through' session
Click here to view all videos & hear interview
Vol. 1, Number 3 in the Shaking Through Series featuring Philadelphia's Strapping Fieldhands and the song "Harbinger, Dark Herald." Curated and Produced by Shaking Through Guest Curator, Daniel Smith (of the band Danielson). Recorded by Devin Greenwood with UBK, and mixed by Daniel Smith at Miner Street Recordings. Video Produced by Brian McTear and Andy Williams. Directed by Phil Bradshaw and Jennifer Schneider, and Edited by Bryan Baker.
!!!DISCUS REMASTERED!!!
Shangri-La Projects presents the 1994 debut full-length vinyl-only classic.
Available now as Digital Download & CD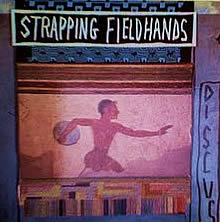 Buy CD & Download - Amazon
Buy Download - iTunes


Recent Feature/Interview articles:
Philadelphia Inquirer - January 2010
Fishtown Star - November 2009